We catch up with image maker Max Laurence returning to Dubai after a few days R&R in Kuwait. 3 years ago Max completed a course in Graphic Design, specializing in illustration at Sheffield Hallam. When his wife secured a job as a teacher in Dubai, Max moved with her – and secured a job at artpaintinglab.com – creating and executing creative images on a large scale for companies and private commissions in one of the world's wealthiest growth economies.
Projects range from a couple of square metres to dress a wall in a private house, to commercial murals spanning up to 25m across. Max has worked for Starbucks, the W Hotels Group and PF Chang – a well known regional restaurant chain.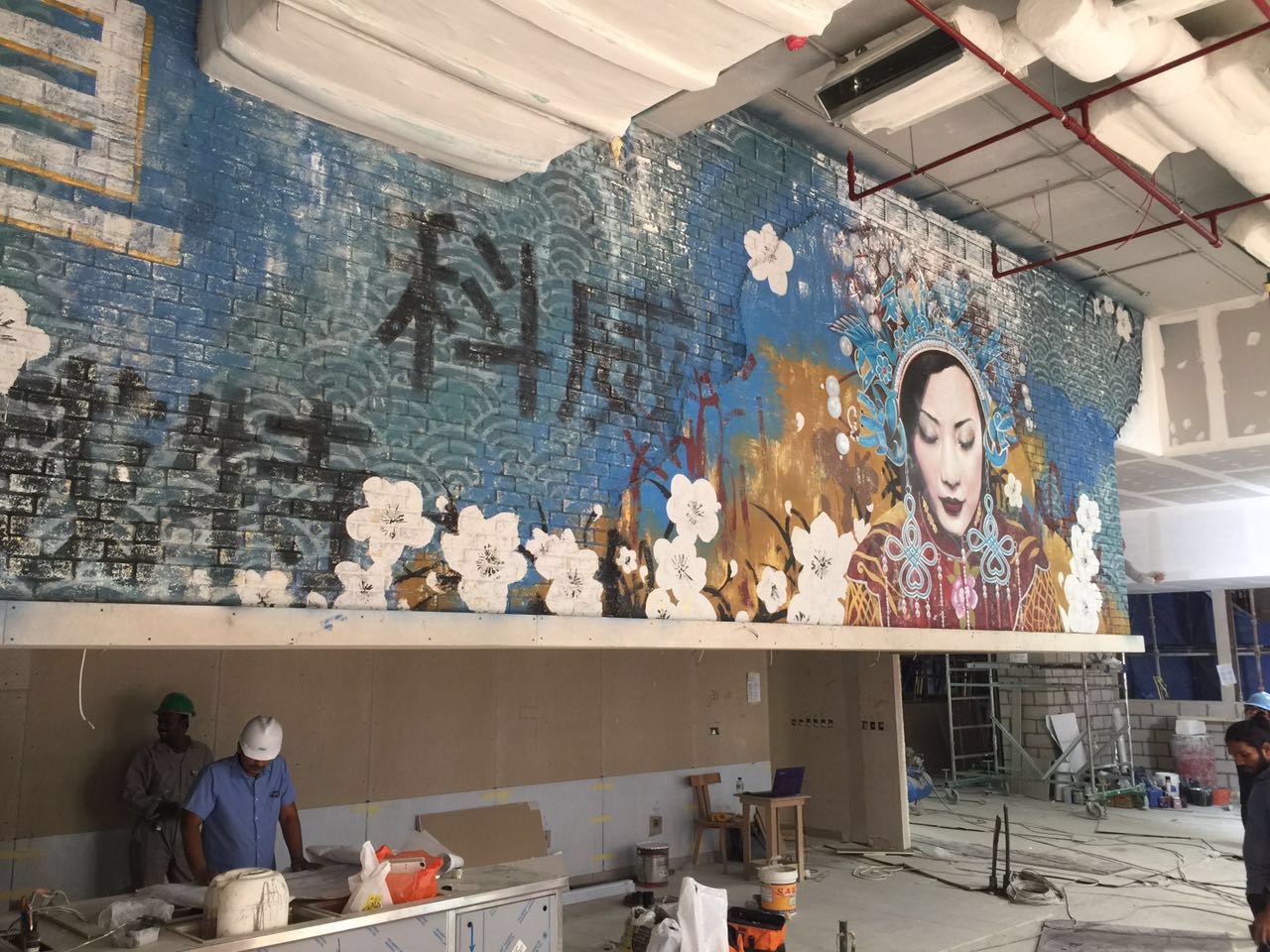 The work is diverse. Some is artwork provided by the client for Max and his colleagues to realise. Others are prescriptive commissions – portraits of Sheiks are pretty big business in the United Arab Emirates. But plenty are original pieces, where Max will take a brief, deliver back options and then move the favoured artwork forward to real-world application.
Straight out of Uni, Max was looking for graphics roles – for him the opportunity to be painting and drawing full time was an unexpected gift. Frankly, he's over the moon. 'I enjoy a reasonable amount of creative freedom on the projects we get. If I get to put my spin on something – you'll see that I try to create an energy. It can get messy...[he laughs]'
Max's originals often include black and white portraits with explosions of colour. He's experimenting with how far you can deconstruct an image of a person before it becomes unrecognizable and how you can introducing unexpected elements to create something more dynamic than the run-of-the-mill.
When we ask Max what he likes the most about his work he tells us: 'It's all about getting a reaction. We've recently been painting pillars at Abu Dhabi airport. People were asking us about the work. Some congratulated us. I'm sure plenty walked on by. But it's good to have the work seen and to get a sense of the response it provokes.'
So does Max consider himself an artist or a designer? For Max the lines are blurred. For him an artist is characterized by an ability to innovate. To create and change an idea on the spot. To be able to express something both individual and orginal. In his view, design is more process oriented and often driven by the desire to get a specific outcome. The client has more control. There is craft, but the parameters are narrower. He sits somewhere in the middle, leaning one way or the other, depending on the job in hand.
Max fills us in on his submissions. 'I've created some original work for The London Loop Gallery – because it's an opportunity to get some profile at home that's simply too good to miss. I wanted to create image[s] that celebrated the explosive and transformative power of creative collaboration – because that's what the Loop.gl platform is all about.
Whether his work floats your boat or not, Max has hit the nail on the head. Loop.gl is a simple, intuitive way of sharing big files and collaborating on creative projects, all in an organized, easy to manage interface. Loop.gl has been conceived and built to help creative people share and debate their work. The London Loop Gallery will do the same – but in a very public fashion - on the streets of our Capital for 4 weeks from the 1st of March. Join in.