Dave Paul is biting his nails. His first novel, 'Recollections' is currently out for editorial review. Which means he's waiting for feedback on work that's been 3 years in the making – and whether it's worthy of moving forward to secure the support of a literary agent on the path to publication.
Recollections is a dark comedy revolving around an 11 year-old narcissist and compulsive liar – Quentin Sommerville - whose competitive streak sets him on a path to annihilate his popular school rival Chip and bag the attentions of the indomitable girl.
The idea for the novel came when Dave was asked to clear out old school books from his Mum and Dad's loft, causing him to stumble across stories written by his 7-8 year old self and a memory of how incredibly competitive he had been at school.
Dave tells us that finding the 'voice' for the novel was a lot of fun – as the nasty little guy who tells the story is a wannabe intellectual who fosters a verbiose, overblown high English style, whilst also being profoundly unreliable when it comes to the truth. The net effect is a timeless, public school tone with plenty of extravagant language thrown in – making for rich and engaging prose.
It may still be some time before Recollections makes it into the world as a published novel. But in the meantime, Dave is giving the public a taste of things to come, by entering some extracts for inclusion in The London Loop Gallery.
The London Loop Gallery is an unprecedented creative event. Including 72 outdoor poster sites from Soho to Shoreditch, the exhibition will feature work submitted by photographers, painters, illustrators, designers and writers. Work voted by public and participant vote will make it into the show, 5 category winners will receive £1,000 and the overall 'best in show' will receive a cool £10,000.
We ask Dave how he thinks written submissions stack up against more visually-driven opponents. 'My day job is as an advertising writer – so I know the impact a headline needs to have to grab attention. And I can also see that the trend over recent years has been towards more emphasis on the visual to create immediate impact. But words have power that images don't. They can take us on a different journey – transporting us to an imaginary world where the audience has to work alongside the writer to realise an emotional impact.'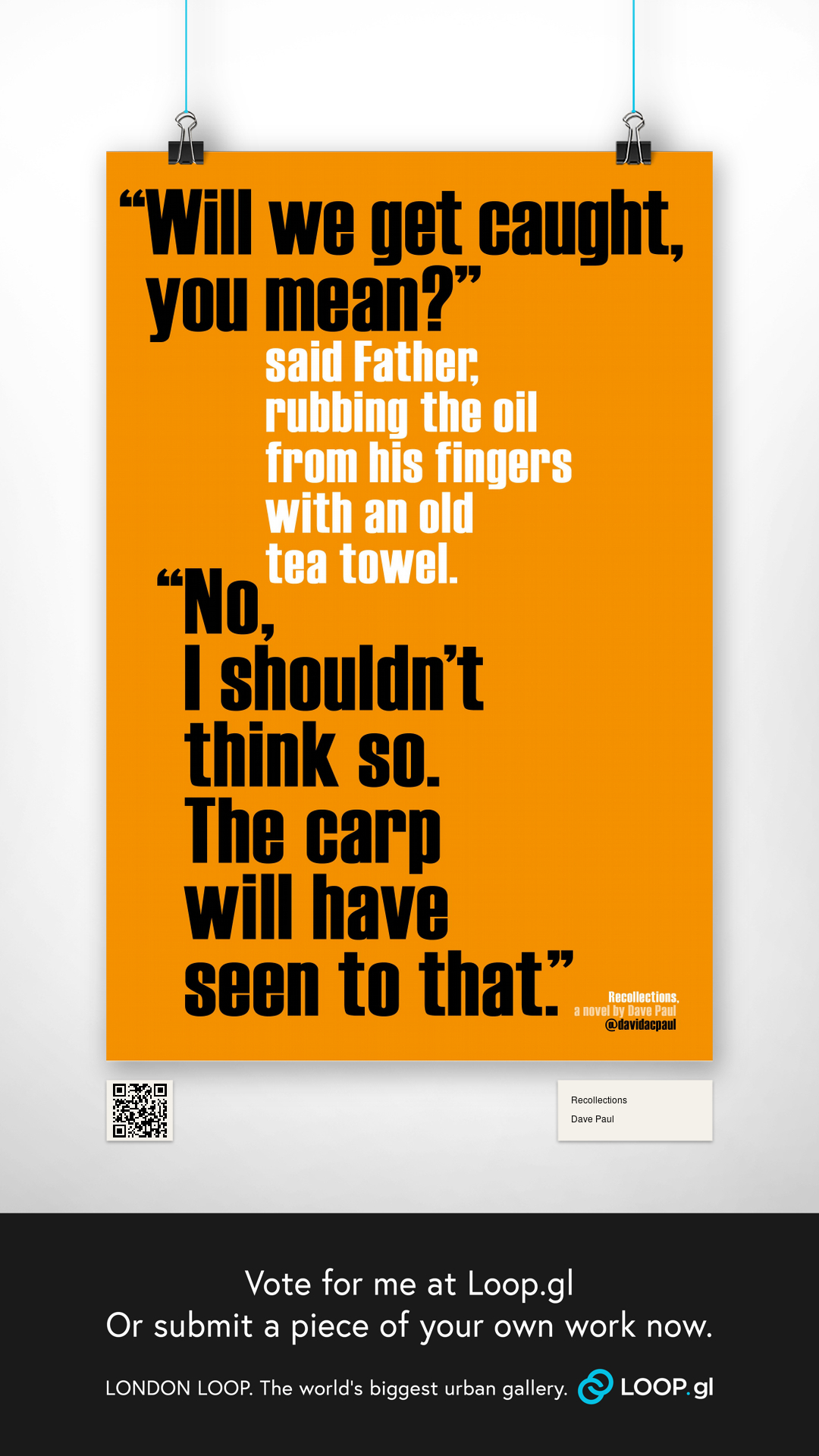 When asked how he felt about his work being revealed on The London Loop, Dave was upbeat. 'I like the idea of having my work out there and getting the feedback. Throughout my career and in my creative writing studies, I've been lucky to work with some great talent. Generating ideas, getting different perspectives and springing off input from others is at the heart of the creative experience.'
We couldn't agree more. Loop.gl is a file sharing platform that empowers people to collaborate in easy-to-follow conversation threads. It's creative file sharing made simple and smart. Why not check it out – AND submit some work for The London Loop Gallery whilst you're at it? With prizes to be won even for voting and the opportunity to be seen by up to 10 million viewers, taking part could prove very simple and very smart indeed.